As a centre of intellectual development, creativity and informed social awareness, the University will ensure that knowledge exchange contributes to regional and global development, and increase the opportunities for staff and students to benefit from the commercialization and application of their expertise. We will build sustainable relationships with the government, professions, private sector, community and individual citizens to foster creativity and informed social awareness, and to demonstrate our commitment to societal leadership in the region.
The University fully recognizes that higher education institutions have an important role to play in a modern knowledge society, contributing to social, cultural, economic and technological development and to international competitiveness. The knowledge exchange process is mutually beneficial to both the institution and the community in a broad range of fields. The University aims to pursue knowledge exchange as a two-way partnership with the communities in the region, emphasizing engagement. We will also draw upon the support of our strong body of alumni, many of whom are playing a leadership role in different communities across the region and the world.
We see knowledge exchange as being intrinsically interwoven with research and teaching. The University has been engaging in a wide range of knowledge exchange activities through applied research, educational delivery, knowledge dissemination, expertise sharing and community service, and we will implement the following strategic initiatives in order to achieve a substantial and measurable increase in the quantity and impact of our knowledge exchange activities:
STRATEGIC INITIATIVES
Develop a strong knowledge sharing culture

We will continue to inculcate in our academic staff members a culture of knowledge sharing with the public. They will be encouraged to share their intellectual knowledge through public and inaugural lectures, media interviews, publications, continuing and professional education courses, memberships of public committees and company boards, and other services and activities. On the other hand, we will invite contributions of knowledge and expertise from outside the University through appointment of external members on programme advisory boards. We will seek collaboration with our alumni who, as members of the University, are able to bring back to their alma mater knowledge and advice from their experience beyond the University. To further facilitate knowledge interaction, we see the need to collate information on our knowledge exchange contributions more systematically through the development of a database, and communicate such information through newsletters, expertise directories and other channels.

Demonstrate leadership in communities across the region in a broad range of fields through enhancing the quality, range and impact of our knowledge exchange activities

We recognize the need to promote high quality knowledge exchange in scientific and technological fields, and in areas embracing the humanities and social sciences. We will encourage all academic staff to link their academic and research aspirations with advancing the well-being of local and regional communities, collaborating with colleagues from other higher education institutions especially where concerted efforts can bring greater impact. We will continue to demonstrate our role and leadership in providing lifelong learning opportunities for these communities.

Acknowledge contributions to knowledge exchange

To ensure that knowledge exchange is given due attention, it will be necessary to recognize and reward these activities at both individual and unit levels. It is also timely for the University to develop an appropriate career track to attract and support staff members who may have more experience in the professions and the creative industries and who can bring their professional expertise to the academy.

Embed knowledge exchange in the curriculum

The University will seek to promote experiential learning and civic engagement within the formal and informal curricula to provide opportunities for students to take part in the knowledge exchange process, thereby enabling them to learn from and contribute to communities throughout the region.
OPERATIONAL PRIORITIES
by implementing a more effective and responsive management and support structure for knowledge exchange at the central level and across Faculties, including the establishment of knowledge exchange offices, we will underpin our knowledge exchange activities
by gradually increasing the degree to which knowledge exchange counts towards budget resource allocation, we will ensure that Faculties respond to the changing priorities
by strengthening the existing Technology Transfer Office as a central set-up for technology exchange, we will enhance licensing and patenting operations
by setting up a database to record knowledge exchange activities in the University and improving communication within and outside the University, we will facilitate dissemination of information and serve as an exchange hub
by implementing a sustainable web-based expertise directory which draws upon research output, research grant records, contract research, media expertise and community service databases, we will facilitate inbound enquiries that seek to identify expertise
through newsletters, reports, seminars, conferences and public events, and enhanced media impact, we will improve the communication of knowledge exchange achievements within and outside the University
by strengthening existing organs of knowledge exchange, such as the Hong Kong University Press and the Libraries, we will facilitate the process of knowledge exchange
through our postgraduate programmes and the various educational offerings by the HKU School of Professional and Continuing Education (HKU SPACE), we will continue to extend lifelong learning opportunities for different communities
by developing and adopting indicators to measure the quality and quantity of our knowledge exchange activities, we will monitor and assess their impact
by encompassing knowledge exchange activities in the performance review process for individual staff and in the budget allocation process for academic units, we will acknowledge this area of contribution at all levels
by developing a career track for practitioners, we will highlight professional expertise in the University
by expanding opportunities for experiential learning and civic engagement for our students, we will promote inclusion of knowledge exchange as a curriculum element
Knowledge Exchange as a Two-way Interflow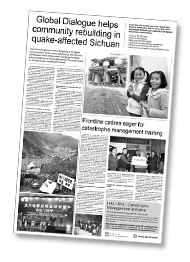 Knowledge exchange has always been an important element of the University's mission and practice and is best used to describe the proactive two-way flow of knowledge between the university and non-academic sectors of society for the benefit of both. The University Grants Committee (UGC) of Hong Kong set up a Knowledge Transfer Working Group in 2007 and has since been encouraging institutions to enhance their engagement in knowledge exchange. Funding has also been provided in the 2009-12 Triennium by the UGC to support this area of development.
The University defines knowledge exchange as engaging, for mutual benefit, with business, government or the public to generate, acquire, apply and make accessible the knowledge needed to enhance material, human, social, cultural and environmental well-being. It not only includes technology transfer but also encompasses all disciplines, including the arts and humanities and the social sciences, and is a two-way process.
A taskforce was set up by the University to work with all Faculties to develop a long-term strategy for knowledge exchange, to propose mechanisms to assess the quantity, quality and impact of these activities, and to coordinate the University's communication with the UGC on knowledge exchange matters. The work of the taskforce will be taken up by the new Knowledge Exchange Office, which will help the University to further develop its work in this area.
Technology transfer, as a sub-set of knowledge exchange, has been managed by the Technology Transfer Office, providing support and services in intellectual property and legal matters, and Versitech Limited, a wholly owned subsidiary of the University dealing with business and commercialization arrangements. The work of the two bodies will be significantly strengthened in the context of knowledge exchange in the next few years.
By expanding the concept of knowledge exchange beyond technology transfer, activities at HKU will have major impact on the six industries identified for development by the Task Force on Economic Challenges set up by the HKSAR Chief Executive, including education services, medical services, testing and certification, environmental industries, innovation and technology, and cultural and creative industries.